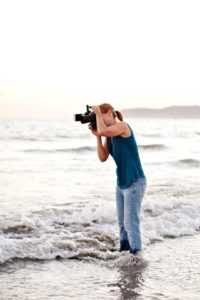 Thank you for taking the time to view my website.
This is where I get to introduce myself to you. I'm a wife, a mother of three boys and, of course, a photographer. I'm a Chicago native who grew up in California but made Arizona my home in 1992. I love everything about Arizona—even the heat! In addition to my passion for photography, I enjoy listening to country music, reading and traveling.
My interest in photography started when I took my first photography class as a freshman in high school. I've had a camera in my hand ever since and now have 25 years of professional experience. Throughout my career, I have photographed families, children, landscapes and even horses! However, my true passion is capturing those special moments that can't be expressed in words—those joyful moments that only occur at weddings. My love for wedding photography started when I photographed my first wedding in 1987. Each wedding is fast-paced and unique with beautiful photo opportunities that always exceed my expectations. I understand that weddings are once-in-a-lifetime events and love being a part of such a special day.
Experience is very important when you're looking for a photographer. You want someone who can handle the "what if" moments, which undoubtedly happen at every (shoot/event?). From handling weather changes and adapting to schedules running late to having back-up gear (you may need it!) and managing the conflicting interests of family members… the list of "what ifs" is long, and you want a photographer who can remain calm and take great photographs in any situation.
By choosing someone with experience, you will gain the benefits of one who is proficient in the art of photography rather than post-processing editing. I take pride in capturing artistic images with my camera, requiring minimal enhancements.
So if you are looking for an experienced professional who is skilled, passionate and truly enjoys and cares about her work, you've found her! If you do not see what you are looking for while viewing my website, please call or send me an email so I can help you.
Your photographer,
Mary Sandy